Artist Statement
---
I am interested in how any thing – an object, an action or an idea – is made. I produce installations, sculptures, performances, text and conceptual works that explore ways in which materials and manual skills and techniques encapsulate cultural references, historical fact and personal expression.
Specifically, I am interested in learning more about the similarities, differences and interrelationships between acts of labour and acts of art making, including notions of 'repair' as a creative, social form of making.
The material from which something is made, and how it is made are my two primary concerns: the physical properties of a material or action often serve as inspiration. My working process is meticulous and I consider all actions involved in making something, from concept to realisation, as vital and discreet components of the finished work.
As a keen user of space, many of my sculptural works are large-scale, constructed using engineering techniques and devised to experiment with spatial relationships. I sometimes use the relationships between elements within a system (e.g. bureaucratic, logical, technical) as conceptual starting points.
Working both within a studio and 'in-situ' responding directly to a site, as well as making sculpture I also write, producing text works, articles, essays and prose that develop my ideas in a dialectic form. A burgeoning part of my practice is in collaboration with other artists, exploring the relationship between our different skill sets. Through this I also explore and challenge the traditional roles of fabricator and artist.
Joe Hancock. May 2016
---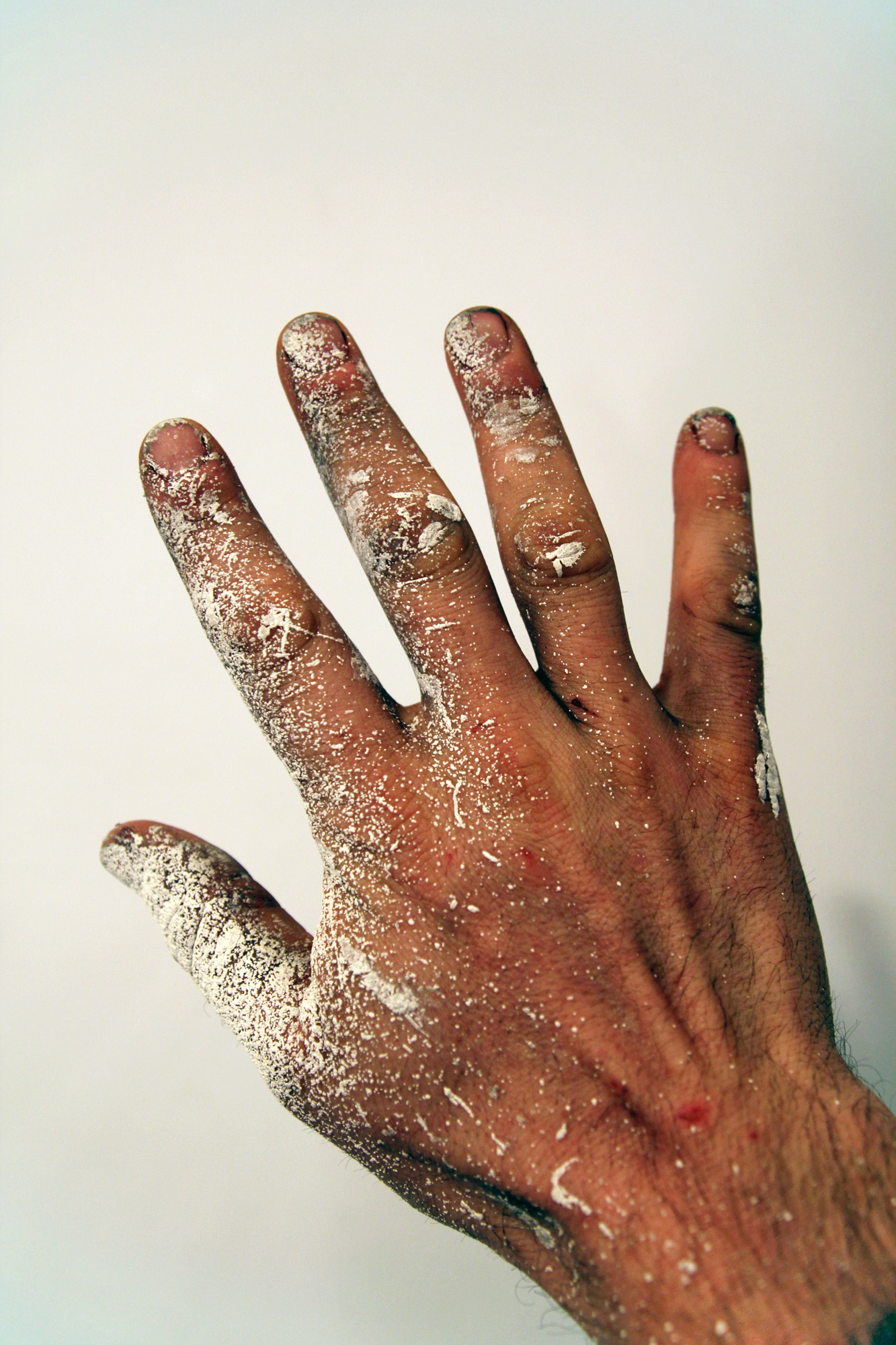 CV
---
Selected Solo Exhibitions

2017 – X≠Y: How to put up a shelf (V) – Curator's Choice series, Leeds Arts University
2016 – (8 off) – &Model Gallery, Leeds.
Selected Group Exhibitions
2017 – MAKE//SHIFT – Air Gallery, Altrincham, Manchester
2017 – Internal Structures – Manifest Festival 2017, Artwork Atelier, Salford
2016 – Deus Ex Machina – &Model North, Leeds
2016 – Progress / Manchester Histories Festival – Rogue Studios, Manchester (collaboration with Nicola Dale)
2015 – Phoenix Exhibition – Glasgow School of Art
2015 – New Scottish Artists – The Fleming Collection, London
2015 – RSA New Contemporaries 2015 – Royal Scottish Academy, Edinburgh
2014 – Looking at the reflection of reality – Mark Devereux Projects, Manchester
2014 – eX – blip blip blip, Leeds
2014 – Part Seen, Imagined Part: GSA in Dunoon – Dunoon Burgh Hall
2014 – Undergraduate Showcase – Glasgow School of Art
Current Projects
Repair – extended practice and research based project considering 'repair' as a form of making.
How to put up shelves – development of a body of work exploring the ontology of the shelf as object and as a phenomenological construct.
Residencies
Education
Glasgow School of Art – BA(Hons) Sculpture and Environmental Art [1st Class] (2010-14)
School of the Art Institute of Chicago, Chicago, U.S.A. – Exchange programme (2012)
Leeds Arts University – Foundation Diploma in Fine Art [Distinction] (2009-10)
Selected Talks
2016 – University of Huddersfield – artist talk – 60 minute presentation & Q+A
2016 – & Model North, Leeds – artist talk – 60 minute presentation & Q+A
2016 – Leeds Beckett University – artist talk – 90 minute presentation & Q+A
2016 – Leeds Arts University – artist talk – introduction to 'Repair' project
2015 – Royal Scottish Academy, Edinburgh – artist talk – Creative Conversations series
Awards / Bursaries
2016 – Arts Council England – Grants for the Arts
2014 – Phoenix Bursary
2010 – Harry Meadley Prize
Press & Media

2017 – ASAP/J (Association for the Study of the Arts of the Present Journal, Johns Hopkins University, Baltimore MD, USA.) – feature review by Catriona McAra – &Model Gallery Sumer Residency 2016
2017 – Axisweb – Category of the Week: Sculpture, selected by Rebecca Senior (Axisweb / MMU / Corridor 8) – How to put up a shelf (IV)
2017 – Axisweb – Five To Watch selected by Thomas Dukes of Open Eye Gallery, Liverpool – X≠Y
2017 – Axisweb – Category of the Week: Intervention – selected – How to put up a shelf (IV)
2017 – Corridor 8 – feature review by Karen Tobias Green – X≠Y
2017 – Axisweb – New Art Highlights selection – How to put up a shelf (IV)
2016 – Axisweb – Five To Watch selection – Deus Ex Machina
2016 – a-n – review by Bob Dickinson – Progress / Manchester Histories Festival – The Work As A Result
2015 – The Skinny – review by Adam Benmakhlouf – RSA New Contemporaries exhibition – Deus Ex Machina
2015 – Arts Press – review by Tim Cornwell – RSA New Contemporaries exhibition – Deus Ex Machina
2014 – The Skinny – review by Adam Benmakhlouf – GSA Degree Show – Anthorn
Publications
What A Week – catalogue essay for Phoenix Exhibition, Glasgow (2015)
Cataphote, or, Beauty Is In The I of the Beholder – artist book / text work, Glasgow / Leeds / Chicago, U.S.A. (2013)
Artist interview – in Catalogue Available by Alex Farrar (2011)
Collections
Private collections in New York, U.S.A. & Manchester, U.K.
School of the Art Institute, Chicago – Joan Flasch Artists' Book Collection
Glasgow School of Art – Artists' Book Collection
Leeds Arts University – Artists' Book Collection
Teaching
University of Huddersfield – Associate Lecturer, BA(Hons) Contemporary Art (2016- )
Leeds Arts University – Associate Lecturer, BA(Hons) Fine Art (2016)
Leeds Beckett University – Visiting Artist – 'What Are You Doing' – 4 day devised project for undergraduates (2016)
Leeds Beckett University – Visiting Tutor – studio tutorials with undergraduate and postgraduate students (2016)
Glasgow School of Art – Workshop Technician – technical & tutorial support to undergraduate & postgraduate students (2015)
Fabrication
Gestured – Brass Art, Manchester – exhibition fabrication & technical support (2017)
Farmers Tan – Ian Jackson, London – design & fabrication (2017)
It Stares Us Down – Nicola Dale, Manchester – sculptural fabrication (2016-17)
Temporary Custodians – Maurice Carlin, Salford – sculptural design & fabrication (2016)
Storage / Stowage – Maurice Carlin, Salford – sculptural design & fabrication (2016)
Swimming Machine – Lisa Stansbie, Leeds – sculptural design & fabrication (2015)
Fabrication Consultancy/ Project Management
Female Public Sculpture [working title] – Leeds Arts University / Leeds City Council, Leeds (2017- )
Engels' Beard – Engine Productions, Salford.
Public art work – large outdoor sculpture / climbing wall – technical project management and fabrication (2015-16)
The Awkward Ambassador – Darren Nixon, Salford / Manchester.
Commissioned painting / installation – skills teaching and fabrication services (2015-16)